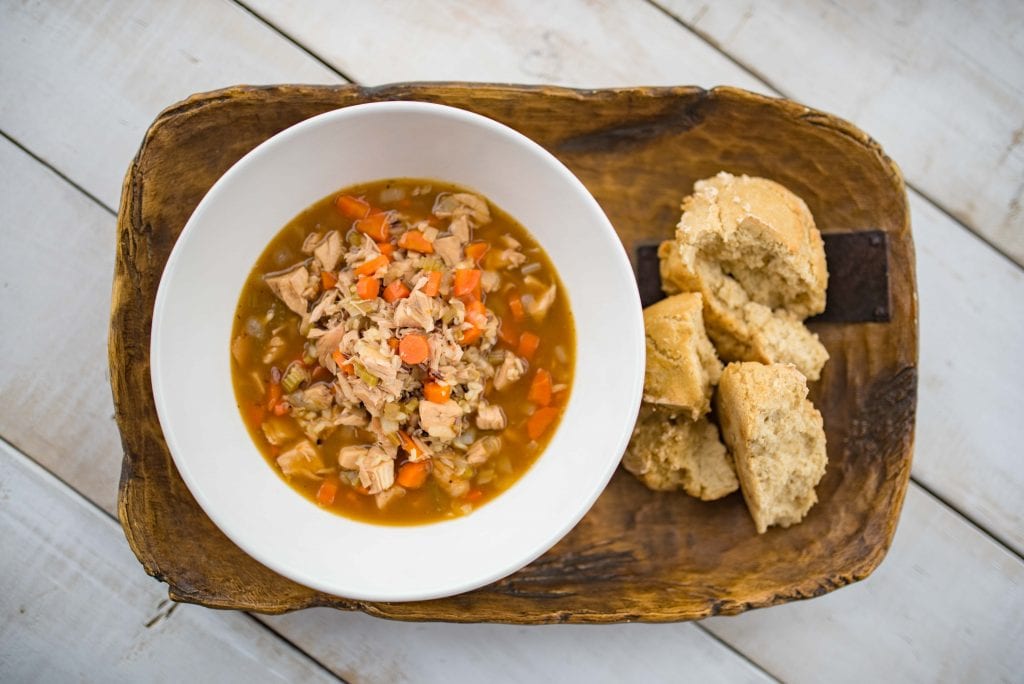 Is there anything better than a bowl of homemade chicken and rice soup?  It is just so soothing, warm and familiar.  It is amazing how food can bring comfort.  Last week I shared my Rustic Chicken Stock recipe with you, and the flavors that come from that golden liquid, elevates the flavors in this soup to a whole new level!
This dish is one that allows me to stretch those rotisserie chickens as far as I possibly can and feed a small army (there are 7 of us to feed here at 5 Oaks Farm) in the process.
When I get home from Costco or Sam's Club (Their chickens are HUGE compared the the other grocery stores and they are only $5 each.) I pull all of the chicken off the bones, and put it in to zip top bags in the fridge.  The rest of the bones, skin and pieces all go right in to a stock pot.  I put all of the other ingredients in for the stock, cover with water, and then let simmer for 24 hours.
I pull it off the heat about 2 hours before I am ready to strain it, and then put the liquid in to the refrigerator for 12-24 hours.  Once chilled, you can skim the fat off the top, and then pour in to zip top bags and freeze flat for future use.
We use rotisserie chicken for lots of things around here, but knowing that not a single piece of the chicken goes to waste is something that makes me quite pleased and happy.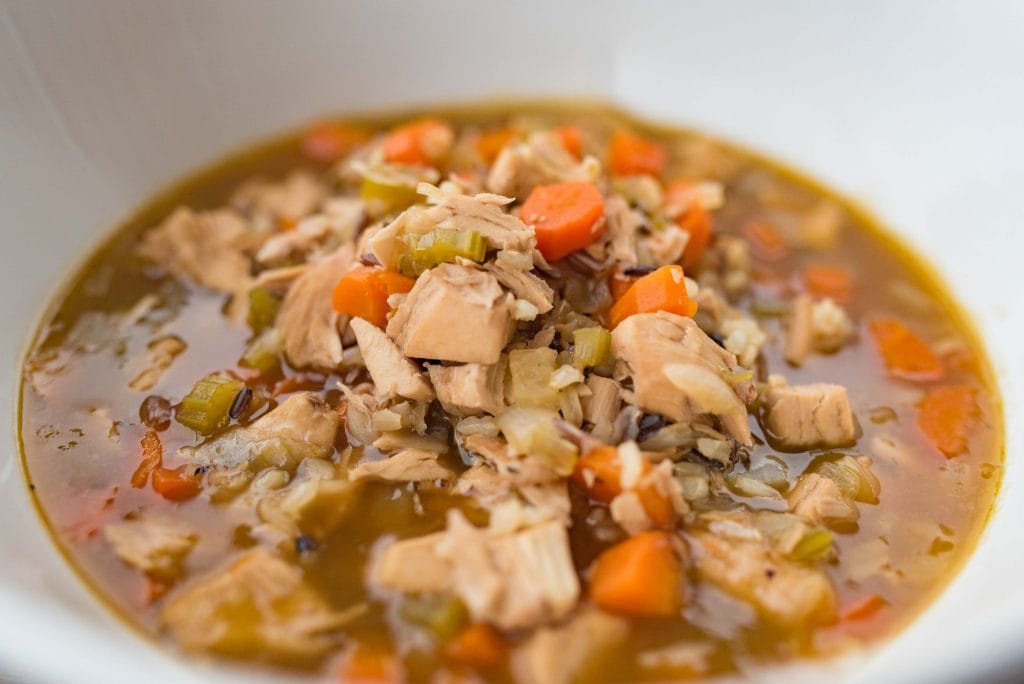 Ingredients
6           cup     Chicken Stock (Click here for our recipe)
1/2       cup     Brown and wild rice blend
3           med    Carrots (diced/sliced)
2           stalk   Celery (diced)
1           med    Onion (diced)
1/4       tsp      Thyme
1 1/2    lb        Cooked chicken
Instructions
Bring bone broth to a boil and then add all ingredients to the pot.  Simmer on medium low until rice is tender. 
Time Saving Tip
When making the bone broth, save the chicken off of the bones, and use for the chicken in this soup.