Is there anything more comforting that chicken soup?  Did you know that traditionally made chicken soup is incredibly nourishing, and not only can boost your immune system, but it is also just about the healthiest thing you can eat when you are sick? Bone broth has SO MANY benefits!
Boost/supports your immune system
Warm liquid is quite soothing
Bone broth contains lots of minerals our bodies need to stay healthy
Gelatin is found in bone broth and is FANTASTIC for joint pain and stomach health.
Helps hair and nails grow and stay healthy
Aids in digestion
Let me be clear.  This is NOT THE SAME as the broth and stock that you can buy at the grocery store.  This bone broth is deep and rich in flavor, color and is not see through!  This bone broth has a multitude of herbs and nutrients.  It is wonderful to sip on it's own, but it also AMAZING in soups and stews. Ok, so enough talk. 😉  Let's just get to the recipe already!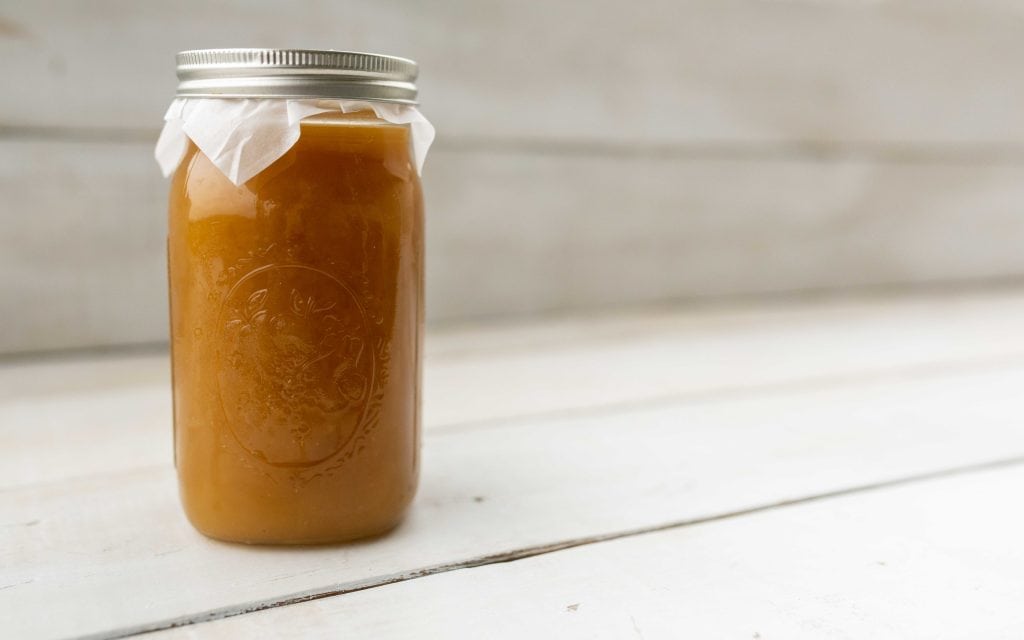 Nourishing Bone Broth
2  each          Chicken Carcas
2  medium    Onions (large chop)
3  stocks       Celery (large chop)
2  medium    Carrots (large chop)
2  tbs             Apple Cider Vinegar
8  whole        Cloves
2  each          Bay Leaves
3  cloves       Garlic
7  each          Peppercorns
1  pinch         Rosemary
1  pinch         Thyme
1  pinch         Basal
1  pinch         Sage
1  pinch         Savory
1  pinch         Celery Seed
Instructions
Put 2 cooked chicken carcasses that have had the meat removed in to a large stock pot.
Add all of the remaining ingredients to the pot.
Cover the pot contents with water and bring to a boil.
Once it has come to a boil, turn down the heat to maintain a low simmer.  Cover and then leave to cook for 12-24 hours.
Add water when necessary.
You will know when your stock is ready when the bones can be easily broken or pierced with a fork.
Using a colander, strain your stock in to a large bowl, removing all of the bones and vegetables.
Chill the stock in the refrigerator.
Once chilled, skim off the fat from the top of the stock.
Use immediately, pressure can it, or freeze for future use.
Tips
If you are not comfortable leaving your stove on unattended, this can also be done in a crock pot or electric pressure cooker.  For the crock pot, complete steps 1-4 and then transfer to a crock pot and set on medium heat for the remainder of the cook time.  If you want to use an electric pressure cooker, (Instant Pot) you will most likely need to cut the recipe in half, but then combine all of the ingredients in to the cooker and cook on manual for 90 minutes.
My favorite way to freeze the stock is in gallon sized zip top bags.  I measure out 8 cups per bag and then freeze flat.  Once frozen, they can be stacked efficiently.  This method also makes defrosting the stock quite easy.
If your plan is to just drink it, using the sandwich sized bags and filling them each with 1 cup of stock and then freezing flat, makes for a super simple way to store it in the freezer without having to thaw 8 cups at a time.
_________________________
I would love to invite you to sign up for our newsletter.  I promise not to send you more than 1 email a month. 😉  I will be sharing the links to any new recipes that I publish and seasonal availability of products from our farm here in North Alabama.  You can also follow us on Instagram and Facebook if you would like a bit more of a peek in to our daily lives. 🙂
__________________________