When I told Sheryl (my aunt whom I am collaborating with for the Fine Foods Unrefined cook book) that I wanted to develop a home made rustic tomato soup recipe, her first response was "That is going to be alllll you, because I don't like tomatoes." lol
So, I will just have to take alllll of the credit on this one *snicker*. 😉
This tomato soup has of course, tomatoes, but also a sneaky ingredient, that turns this recipe in to one that is packed full of veggies, and adds a richness and thicker mouth feel that is just wonderful.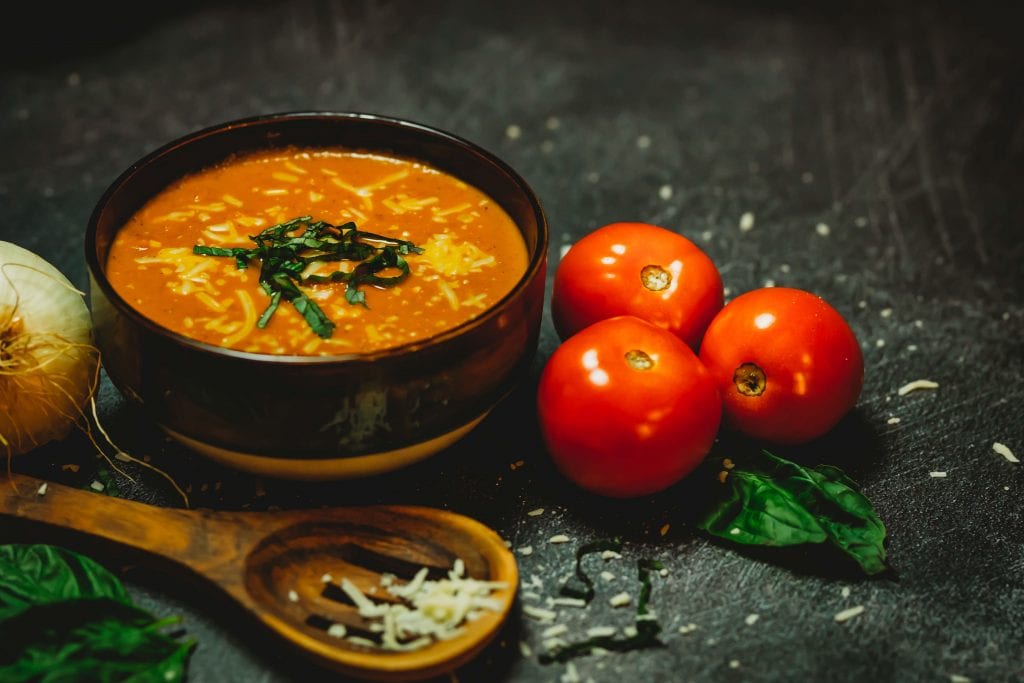 Ingredients
4 tbs Minced Garlic
2 lg. Onions
2 tbs Olive Oil
3 cans Crushed Tomatoes 28 oz. (the Muir Glen brand is my fave)
4 cups Butternut Squash (approximately 1/2 of a squash)
1/2 cup Pesto (choose your favorite brand or make your own!)
2 tbs Honey
4 tbs Balsamic Vinegar
3 tbs Chicken Base (bullion can be substituted)
3 cups Water
1/2 tsp Salt
1.5 cups Cream
Fresh basal
8 oz shredded Asiago Cheese
Instructions
 In a large pot, cook the onions and garlic in the olive oil until the onions are just starting to brown.
Add crushed tomatos, butternut squash, pesto, honey, balsamic vinegar, chicken base and water to the pot. 
Bring to a low simmer, and cook, siring often, for 30 minutes.
Blend the soup to your desired smoothness (using a stick blender or countertop blender)
Return the blended soup to the pot and add the cream and salt to taste.
Serving Suggestions:
My favorite way to eat this soup is with some Asiago Cheese sprinkled on top and a bit of fresh basal as a garnish.