My Grandma Nymeyer was known for her amazing banana bread. It was not only delicious, but the taste and texture of hers, essentially defines everything that I look for and value in a tasty banana bread recipe to this day. She had her "banana bread pans" that really only ever baked this sweet bread in them their whole existence. She claimed that it just didn't turn out right if she used anything else.
As I searched out the perfect sugar free, gluten free banana bread recipe, I was continually disappointed. I finally realized if I ever was going to be able to enjoy the taste of nostalgia again, I was going to need to take matters in to my own hands and create a recipe that catered to my memories in a way that other recipes hadn't.
Recently, my Aunt Patti tasted this, and her first comment was "This tastes almost exactly like Grandma's did!"
Needless to say, I might have squealed a little bit. lol #missionaccomplished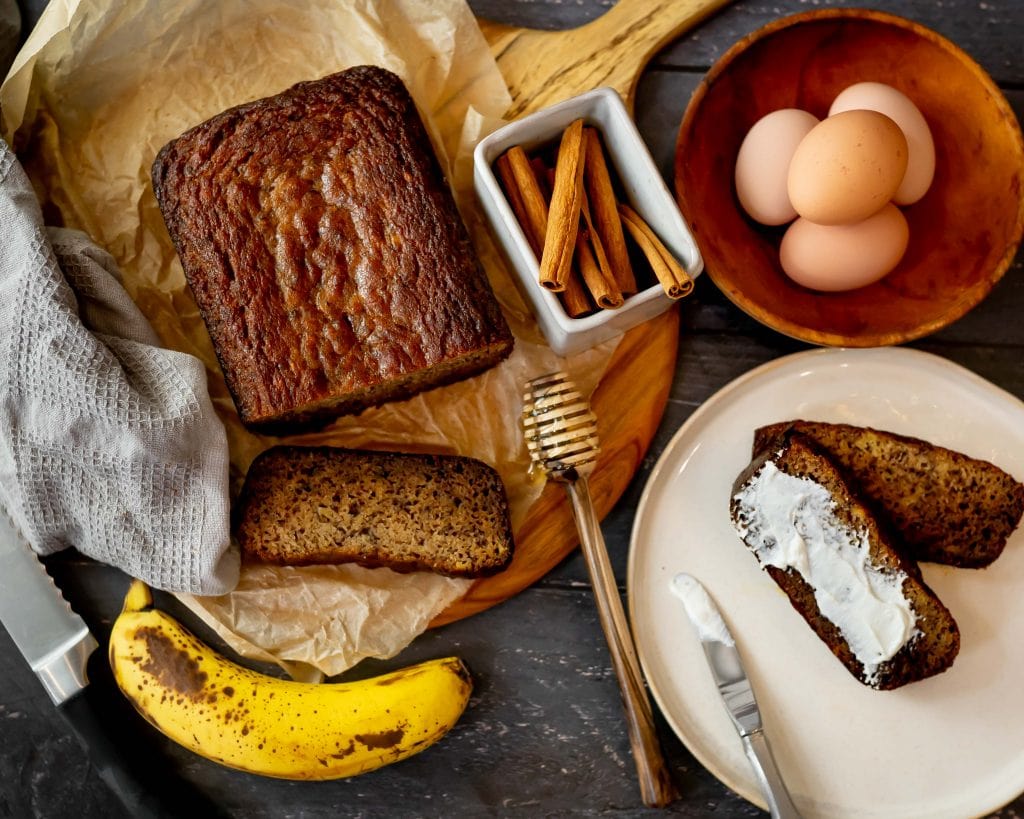 Ingredients
 3 very ripe bananas
4 large eggs
1/4 cup honey
1/3 cup coconut oil (melted)
1/3 cup coconut flour
3 Tbs arrowroot starch
1 tsp ground cinnamon
1/2 tsp baking soda
1/4 tsp salt
Instructions
Preheat oven to 350 degrees
In a large mixing bowl, mash the bananas and mix in the eggs, honey and coconut oil.
Add the coconut flour, arrowroot, cinnamon, baking soda and salt.  Mix well.
Transfer to a well greased loaf pan with parchment paper covering the bottom of the pan at minimum.
Bake for 45-50 minutes, or until a toothpick inserted near the center of the loaf comes out clean.
Let cool a bit, then remove from the pan.
Tips
Make sure to cover the bottom of the pan completely with parchment paper. You will be able to slide a knife along the 4 outside edges to release the loaf from the pan, but the parchment is needed to allow the loaf to not stick to the bottom.
As my bananas begin to ripen beyond what my kids will eat, I will peel them and stick them in to a zip top bag in the freezer for future use. More often than not, those are the bananas that I use for this bread as well as smoothies!
This bread freezes quite nicely. Wrap while warm with plastic wrap. Once cooled, add a layer of foil, making sure to seal all of the edges, and slide in to the freezer for future use. I have successfully frozen and used banana bread stored this way 3-6 months after it was made.
Serving Suggestions
If you like a toasted edge, let the loaf cool all the way before slicing and serving.
If you like a super moist loaf, (like my grandma did) wrap with plastic wrap while still warm and wait to eat until cooled completely.
My favorite way to eat banana bread is slightly warm, with butter or cream cheese spread on top.